We all know that it's very important for a plastic molding company that has excellent manufacturing devices and skillful workers, as it's a guarantee that they can producing good products at least.  However, most of time, what customers' want is not only acquiring qualified parts, but also need to get them on time or even rapidly, and hope to work with suppliers smoothly and happily.  For example, factory A can make better parts, but they are difficult to communicate, factory B's quality is not that good, but OK for us, and the cooperation is very comfortable, we will still choose B as priority, isn't it?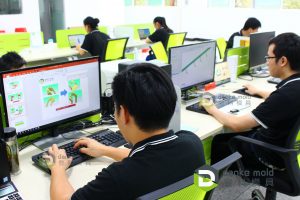 Therefore, how to deal with or manage an injection molding project would be a key factor that customer consider to place/keep cooperate or not.  Here we would like to share our experience, and hope it helps you.  Generally there are 6 steps to manage an injection molding project from getting customer's enquiry to finish shipment.
Check customer enquiry in detail and thoroughly understand customer's requirement. When receiving customers' enquiry of an injection molding project, the first thing we should do is checking their request in detail, such as material, quantity, surface finish, lead-time, etc. Then open the drawing files and quickly check if there's something wrong with the files, sometimes we probably cannot open their 3D data, of there will probably be some corrupt surface on the 3D model.
If the customer didn't provide enough information for our quoting, ie. missing the material request, we will need to ask them and better to recommend some options, because not all the customer know what material fit their products.  Then we should immediately reply the customer's email and tell them that thanks for the enquiry, and ask them some initial questions (if there are), and say we will prepare the quotation within 12-24 hours (if possible).
2.Analyze the drawing files and prepare DFM documents (Design For Manufacturing). Discuss with engineer about the job, analyze the manufacturing feasibility, check if some features on the part need to be optimized, then determine the tooling structure, like gate type, parting proposal, ejected pins position, demolding option, and some comments of optimizing designs.   And show these information with texts and images into the DFM ppt files.
Calculate the tooling & molding cost and finish the quotation sheet. Talk to the tooling engineer and figure out the tooling & mold cost and the manufacturing time. Consult purchaser about the price of plastic raw material, then calculate the molding cost of each part.  In the end, take the packing and assembling cost (if there is), and figure out the shipping cost.  A completed quotation can be made after collecting all these information. Then, send the quotation sheet together with the DFM files to the customer.
Arrange production. When receive customer's order, we need to confirm with them about the DFM files, and make sure we get the final/latest version drawing files for manufacturing. Then we should have a project review meeting with engineers and production team, and other relevant departments, to let them know about the requirement of the order. Then send all the data to the production team leader and specify the requirement in detail via email.
5.Follow up the production status and keep feedback to the customer. Every 2-4 days, we should go to the workshop and check the status of the job, sometimes should take some photos and send to the customer for checking. If the process seems to be late, we need to urge the relevant person in charge.  Also, if there's sometime wrong or issues during the process that we could not determine, we should confirm with the customer in time, don't let it there and delay the job.
Mold trial and send samples. We usually need to do the first mold trial of  tooling finish, to verify the mold.  Sometime we may need to do 2 times or even more if the results were not good.  Keep samples well and tag them with material, molding machine code, and producing date, etc
7. Molding production after samples confirmed by customer. Same to above, we should go to the workshop and check the status of the job, and feedback to the customer every  2-4 days.
Quality check and ship the parts. Inspect the parts when production starting, processing and finished, and create inspection reports. If everything no problem, pack the parts and send out.  Send shipping documents to the customer.
In conclusion, it's very important to do these things in plastic injection molding project management:  information clear, response in time, feedback rapidly, communication smooth, keep report, everything clean.  If you can do it like that,  you can keep long term cooperation with customer easily.