Glass Corner Piece Case Study

Process:SLA, Steel Tooling & Plastic Injection Molding
Part Size:100.6*100.6*45.67mm
Part Material:ABS
Tooling Details:P20/P20 Steel
 MUD Mold Base (common use in DM)
 Single Cavity
 2 Sliders for side actions
Tooling Life:50,000 cycles
Lead Time (T1 samples):20 days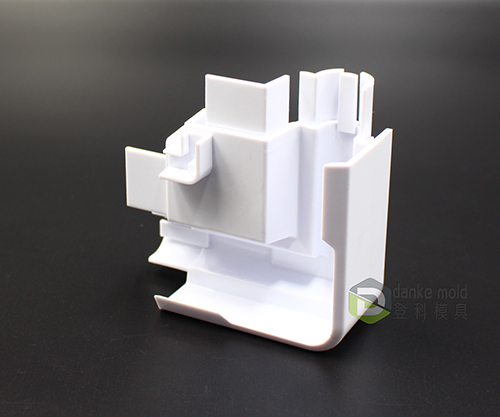 Simple story of proceeding the project from prototype to production for Glass Corner Piece:
Jan 24th:
An old client came back with us for a cost idea of a Plastic Corner Piece at early design stage.
Jan 25th:
We got back the both the tooling and molding quotation with our client.
Jan 27th:
The client asked a DFM analysis of the part after CNY break, as we were on holiday already.
Anyway say 'Gong Xi Fa Cai' to each other at that time.J
Feb 3rd:
We came back from the CNY holiday, and got back the DFM the next day.
Feb 5th ~ 12th:
We discussed the tooling and molding manufacturing issue with our client.
 Feb 16th:
We quoted 2 prototypes for our client.
Feb 27th:
The client confirmed us the prototype order by SLA process, but the drawing would need some adjustment.
Mar 1st:
The client confirmed the final drawing for us to kick off the SLA prototype.
Mar 3rd:
We shipped 2 SLA prototypes to our client.
Mar 14th:
The client updated the 3D drawing again for design-for-manufacturing analysis.
Mar 15th ~ 23rd:
We worked with our client back and forth for solving the issues before proceed to tooling and injection molding.
Mar 27th:
;The client confirmed the tooling order to us to kick off the job.
March 28th ~ April 17th:
Tool Building and Mold Trial for T1 samples.
April 18th:
We shipped 10 pieces of T1 samples to our client.
April 21st:
The client got back with us that the samples received look very good.
They will get back to us again after get through all the necessary assembly trials in a few weeks.